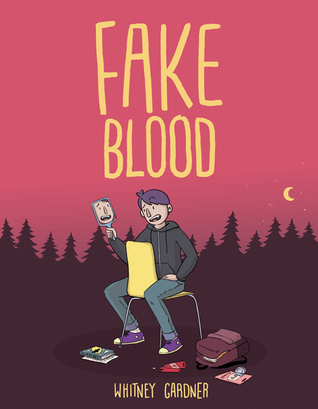 Fake Blood
by
Whitney Gardner
4 out of 5 stars on GoodReads
A.J. likes a girl.
A girl who is obsessed with vampires.
Conclusion: A.J. must become a vampire. Or at least, dress up like one.
Haha! I knew right away that this would be a funny graphic novel, and I was NOT disappointed! A.J. has a crush on Nia, and pretends to be a vampire to get her attention. But he gets the wrong kind of attention, because Nia dreams of becoming a vampire slayer, and comes after him with a stake!
Oh, I almost died laughing, this was so funny!
I loved the dynamic between A.J.'s two best friends. I loved the sweet flirtations between A.J. and Nia. I loved the colorful cartoony artwork. And I loved the hilarious plot and relatable characters. Continue reading →