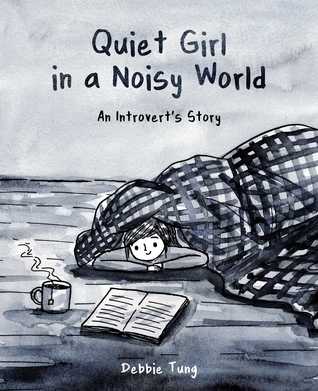 4 out of 5 stars on GoodReads
A wonderfully insightful comic about the pitfalls and struggles of being an introvert in an extrovert-centered world. Each page has a comic with a sometimes funny/ sometimes poignant punchline. The blue/grey artwork shows all the myriad of emotions that an introvert experiences each day, and the writing cuts right to the heart of what makes introverts special. 
I loved this comic! I love how the main character in this comic, Debbie, goes through a spiritual and creative journey to realize that being an introvert is okay and normal and a wonderful strength. (It took me a couple of decades to realize that I'm actually an introvert. I like to talk, so I assumed I was an extrovert, but I'm actually not. ) Once Debbie understands her own personality better, she begins to embrace her introverted tendencies, takes better care of herself, and stops trying to "fit in" with all the extroverts. She appreciates her extroverted friends as they are, and they learn to appreciate her as she is.
I love how this book blends the beautiful wisdom of knowing and accepting yourself with hilarious situations and jokes that give a lighthearted color to the sometimes difficult truth of how hard it is to find your place in society. Delightful fun!
Disclaimer: I received an ecopy of this book from the publisher via NetGalley in exchange for a free and honest review. All the opinions stated here are my own true thoughts and are not influenced by anyone.